"Let's Talk About ACP" Program
Guide & interactive workshop series on end-of-life care planning
An intervention targeting African-Americans. These interactive workshops will provide individuals, families and caregivers with a conversational "framework" that educates and encourages end-of-life dialogue to take place with loved ones, hopefully, before a crisis occurs.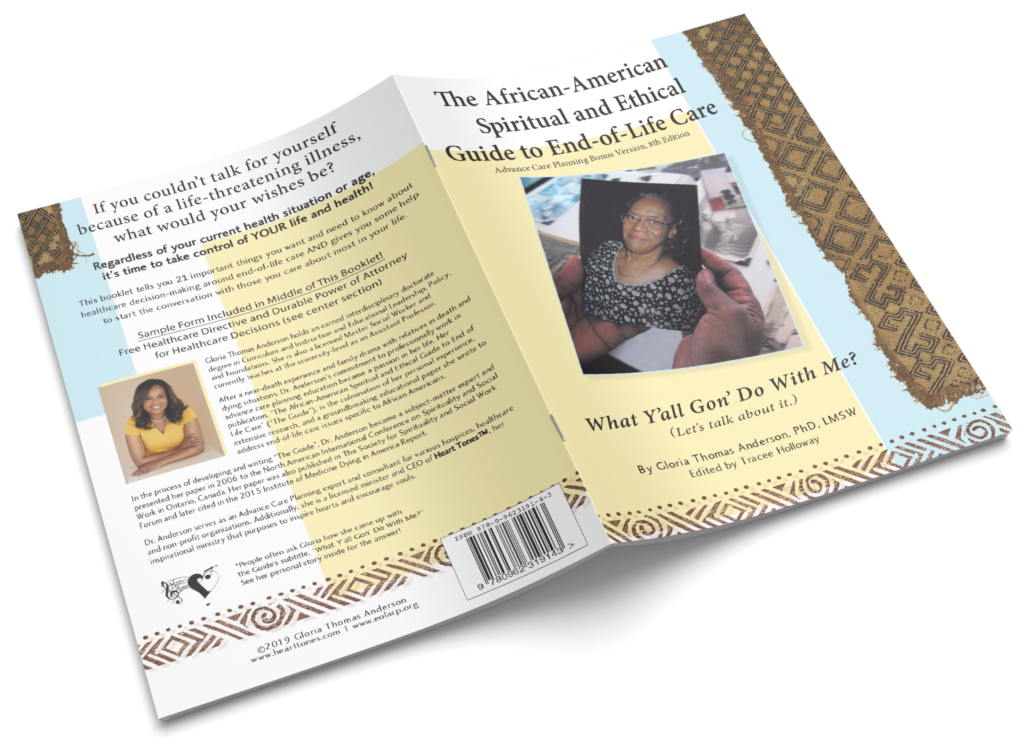 What would your wishes be if you were not able to speak for yourself due to a life threatening illness or accident?
What People Are Saying
___
"As the outpatient oncology chaplain on an interdisciplinary care team, I have found Ms. Anderson's booklet very helpful in opening up difficult conversations in a non-threatening and engaging way. I have used the book with many patients and all have said it was "very helpful" and were grateful for help in learning how to talk about "hard things" at end-of-life".
– Linda G. Fischer, Chaplain, Outpatient Oncology
I just read through The African American Spiritual and Ethical Guide to End of Life Care and loved it! Your guide provides such rich information and is like no other resource I have seen.
– L. B., GPCNP
Having used this booklet now for about 2 years, I have found that it fills a previously unmet need for Medicare mandated and culturally relevant materials to teach medical patients about their choices for end of life planning.
– Marianne Wilson, MSW, LCSW, Renal Social Worker
"Thus far, we have used it largely as a resource for staff who are serving an African-American family and/or who are just interested in learning more about the end of life perspective of this community. We have been grateful to have it as a resource".
– Nancy Sherman, LICSW, Director of Bereavement Services