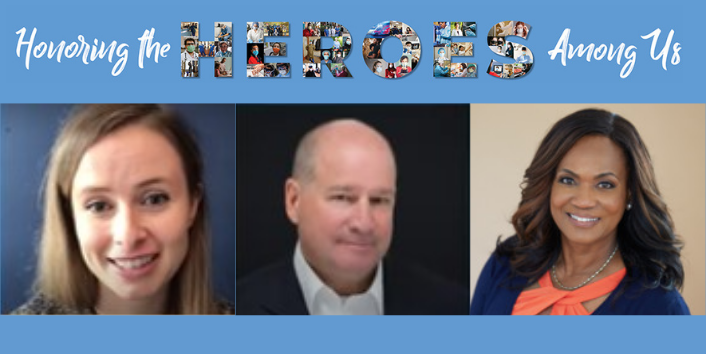 Healthcare, community and social justice heroes were recently recognized at Capital Caring Health's annual Passion for Caring Gala, which took place virtually on October 3.
Nominated by members of the community, these three individuals were honored for making a significant impact during the COVID-19 crisis or through their fight for social justice and racial equity. This year's Gala focused on the unique environment we all face as a result of the COVID-19 pandemic and how critical services during this time are delivered by many unsung heroes.
Honorees include: Peggy Leadbetter, RN, Healthcare Hero Award; Frank Sherman, Community Hero Award; and Gloria Thomas Anderson, Ph.D., LMSW, Social Justice Award.
Peggy Leadbetter answered the call to nursing after becoming a CCH Volunteer. Upon graduation from nursing school, she was hired by Inova Mt. Vernon Hospital and completed her shadowing nursing orientation. Then COVID-19 hit. Peggy was immersed in the crisis of a true pandemic. She experienced caring for the sickest of the sick and her training as a Hospice volunteer was put to practice. Peggy worked long hours but still made sure to call her Capital Caring Health patient each week, and when she couldn't get her patient on the phone, she sent cards and even made a beautiful care basket for her. Peggy always puts patients and families first; her work shows this!
When Frank Sherman, CEO, Transportation Management Services, heard about how difficult it was to acquire masks for healthcare workers who were taking care of patients in all settings, he was horrified. On his own, and to no one's knowledge, he used his financial resources and international contacts to acquire thousands of face masks. He provided CCH with 20,000 masks and he never billed Capital Caring Health and has no intention of doing so. It was his way of making a difference.
Gloria Thomas Anderson, Ph.D., LMSW, an educator and national expert on advance care planning and end-of life care, developed The African American Spiritual and Ethical Guide to Advanced Care Planning. The guide is culturally sensitive to the needs of people who have faced a history of being neglected, oppressed and treated unjustly by the American healthcare system. Dr. Anderson conducts programs across the U.S. on this topic, and her program and outreach have changed the lives of thousands by opening up the power to name a decision maker and their preferences about medical treatments.
Watch this video and meet this year's Hero Award recipients.
All proceeds from the Honoring The Heroes Among Us event support Capital Caring Health's emerging needs from COVID-19 such as TeleHealth equipment in patients' homes, Personal Protective Equipment for frontline staff, meal delivery to alleviate food insecurity for patients, expanded grief support and mental health services, increased pediatric care requirements, and Patient Care Fund resources to care for new patients regardless of their ability to pay.
For more information about Capital Caring Health's programs, visit www.capitalcaring.org.
Capital Caring Health thanks the 2020 Passion for Caring sponsors for their generous support: Amazon; Marcus Partners; Toyota Sheehy Stafford; Dr. John Whyte and Alisa Valudes Whyte; Direct Cremation Services of Virginia; Tegna; WUSA9; Campion Asset Management; Delta Care RX; and Mary Haft.
###
About Capital Caring Health
Capital Caring Health is one of the largest non-profit providers of elder health, advanced illness, hospice, and at-home care services for the Maryland, Virginia, and Washington, D.C. area. We provide quality care where people live, supporting dignified, independent aging. For more information, visit capitalcaring.org or call our 24-Hour Care Line at 1-800-869-2136.